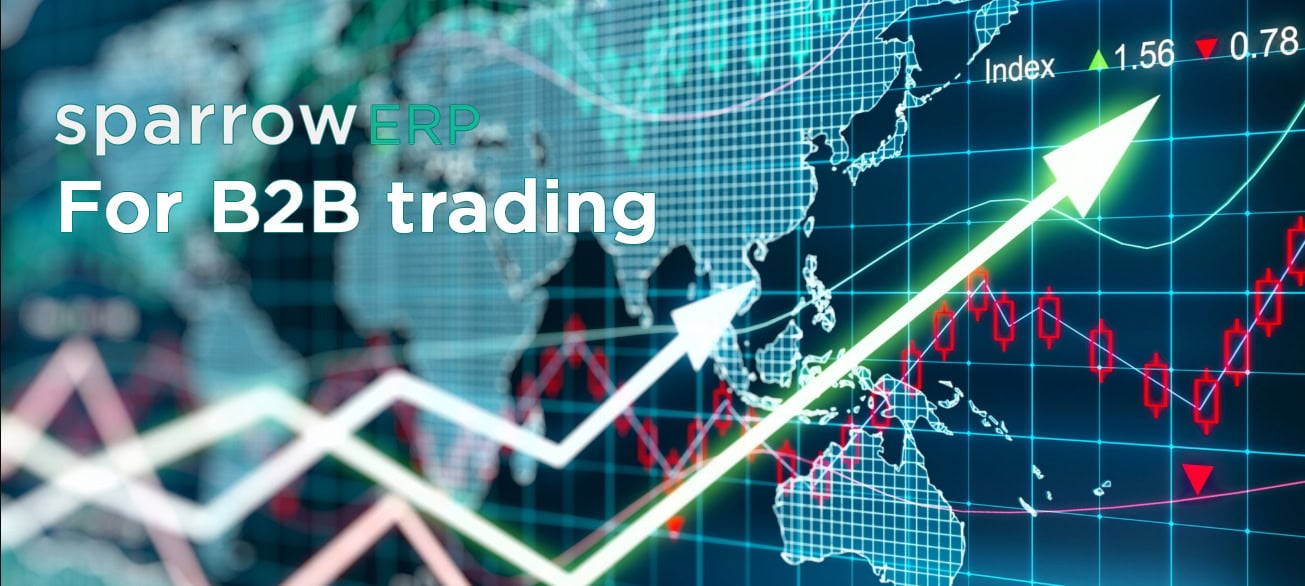 ERP (Enterprise Resource Planning) is the highlight of every business today, regardless of the size. It comes as a savior that helps you streamline and automate your business processes for smooth operation.
The ERP package is designed to support and integrate almost every functional area of a business process such as Sales Management, CRM (Customer Relationship Management), E-Commerce, Inventory Management, Purchasing software, Customer support, plant Maintenance, invoicing & payment, document management, Quality control, planning and manufacturing, plant management, logistics and Bill of materials (BOM) many others.
Sparrow ERP Highlights
Trading B2B/B2C support for administrating all scenarios.
Integrated almost every functional area of business process CRM, sales, etc.
A potential inventory that seamlessly integrates with all modules.
Appraise & validate levels of BOM (Bill of Materials) accurately.
Sparrow generates dense app notification as well as email notification.
A perfectly featured e-commerce solution for B2B and B2C business.
Effortless purchasing solution that covers all essential tools to ease your life.
Makes integration smooth with internal and external software via XML/JSON.
Customized CRM interface to meet the business requirements of your organization.
Plant maintenance and cover other tasks, effective planning and manufacturing interface also.
Dynamic Quality check control system and magnificent documents management with sharing options.
Immediate invoice shipment for agile payments systemizes logistic processes and operations.
Trading – B2B/B2C
B2C (Business to Consumer) and B2B (Business to Business) are two forms of commercial transactions. B2C is a process for selling products directly to consumers. B2B is a process for selling products or services to other businesses.
The B2B (Business-to-Business), sales process simply refers to the series of events, phases, or steps that occur when one business sells (or attempts to sell) a product or service to another business, hence the name. The B2B sales process applies to most fields.B2B business requires strong performance to manage order inflow from numerous sourcing. Sales inquiry, ordering flow, and quotation needs to be well designed. It has to be robust import/export features to process data. We have design sparrow keeping in mind.
E-Commerce Software
Boost productivity and customer satisfaction. Improves functionality, initiates the availability of real-time data. Low operational costs and better quality of services.
E-commerce software can integrate with various business apps and third-party platforms and services to allow you to handle various tasks – accounting, email marketing, order fulfillment, and payment processing – within a single system.
Inventory Management Software
Sparrow has a robust inventory system that keeps track of every movement of the stocked item. Inventory optimization via smart insights. Configurable attributes supported for item variants.
Round trip Inventory Solution by Real-Time Access to Inventory
Real-time stock level is maintained so that the sales team can never go wrong while accepting new orders.
Sparrow ERP makes it possible for business owners to analyze and forecast inventory requirements and to track movements of stocks in real-time and provides inventory accuracy with location level product visibility.
Integration Probabilities
Integration is a way of connecting Sparrow to other systems to ensure that consistent information is shared while also automating workflows.
It is useful because it affects relationships between a sparrow and other vendor systems so that businesses can customize and select the specific tools they want to have in their solutions.
Sparrow makes integration easy with internal and external software via XML/JSON. This ability makes the entire platform very flexible and highly adaptable.
Logistics and Invoice & payments
Logistics software allows you to reduce expedited shipments through better shipment planning and system directed exceptions handling.  Sparrow provides standardize logistics procedures and operation.
It helps to manufacture and distribute products precisely and worthwhile & accurately managing shipments and receipts. One of the essential aspects of the trading business is to effectively handle shipment on demand and manage returns.
Invoicing helps you to streamline your entire invoicing process. Invoicing can be managed for partial or full advance payment orders. It automatically compiles Pro-forma invoices and sends payment reminders to customers as their order is confirmed & gets paid faster. Easily create and send customized sales, prepayment, and credit invoices and quotes.
Sparrow serves a simple and effortless payment registration system that grants you to keep track of customer payments from a discrete approach. It helps you to trims the deadline and enhances your productivity.
Planning and Manufacturing
Planning and Manufacturing allow you to command your input time and supervise your routing & resources. Users can visualize order status and get the idea that Order has high priority still the job cannot be started yet.
We manifest calendar with our manufacturing orders' shipment date wise it provides the overall condition of orders with different specification. All features are user-friendly. Provide better visualization and the user gets the idea about the order status with their priorities.
Quality Control Software
Quality is an important factor when it comes to any product or service. Quality control is essential to building a successful business that delivers products that meet or exceed customers' expectations. It also forms the basis of an efficient business that minimizes waste and operates at high levels of productivity
Sparrow provides extensive quality analysis and dashboard, customize control of quality requirements and manage quality at the highest level.
The quality control module handles the standard task of quality planning, inspection, and quality assurance. With the complete integration of our Quality Control management module into your production process, gain absolute control through the whole process. It reduces inspection costs.
Sparrow ERP simply enables you to have quality assurance at every manufacturing step. You can achieve an excellent end product. This rigorous process control keeps the quality of the product at the highest level and greatly reduces rejection or rework at the end.
Notification Software
Notifications serve a purpose. It is a powerful tool to inform users, introduce them to new features & updates, and inform them about new messages or emails. Events like new inquiry from a customer or order confirmation by a customer can rightly land in your inbox whenever they occur. The system generates a notification on screen as well as via email.
Sparrow's notification system is robust and extensible. It is simple to deploy and easy to understand with modesty and web-based, no additional components are added. The system can deal with internal and external messaging via email or other modes.
An e-commerce system interface with outside customers and partners, scenarios like these expect that customers and partners are notified as soon as an important event occurs in the system that is related to them.
Bill of Material (BOM) Assessment
A Bill of Material (BOM) is a comprehensive list of the components that are used in your schematic along with the detail of the manufacturer's parts, their number and quantity.
By providing BOM information across your organization, we help you to understand your product. We provide automation of a BOM which is one of the most important factors in ensuring BOM management is successful.
Effective management and configuration of the BOM (bill of materials) are critical to your success, whether your product consists of ten or ten million parts.
Sales Management Software
Sales Management System is information systems used in the marketing and sales management department to keep check sales processes, which start with a sale and finish with sending invoices to customers.
Sparrow ERP gives ongoing visibility to your sales team in all aspects of customers, products and their reviews, quotations, contracts, sales orders, reports and dashboards. All the details you need for a quick and responsive user interface crafted for salespeople.
A real-time customer dashboard allows you to achieve more leads, forecast and analyzes your sales with in-depth reports manage every activity and record related to customers from one place.
CRM Software
CRM (Customer Relationship Management) Serves Security and data protection issues with centralized data. Sparrow provides a custom-built CRM interface based on your requirements.
Sparrow CRM (Customer Relationship Management) solution is a tremendous multifaceted tool in which everything important for your customer relationship development, improvement and retention are securely stored. You may probably miss opportunities for growth and lose sales without the active support of a deeply integrated CRM solution.
Sparrow CRM Solution is a coherent and consistent system that works for maintaining interaction between a business organization as well as both existing and future customers.
Big Data Analysis and Machine Learning
ERP enabled with machine learning is equipped to assist highly accurate predictive analytics. Forecasting is one of the most attractive reasons organizations a couple of machine learning with their system.
Sparrow ERP uses machine learning built on a large, curate data set to analyze, predict, forecast, learn, track, route, report, and manage these resources and business processes.
With Machine learning, you can recognize patterns and create informative inferences about relevant business operations which enable more precise projections and intelligent decision-making.
Customer Support Software
Customer support software is a tool that helps businesses in the management, organization, and tracking of customer queries and concerns. It also stores all information relevant to customer service, which can be used to come up with valuable business insights.
Sparrow fully featured with immense customer support efficiency.
Provide Entire customization like API Integration with your current ERP.
Customer Support tool to adapt your customer care.
Implement delightful self- services experiences with unlimited service operators.
Live chat visible to select countries.
It has impressive email management.
Single customer service email that you never miss customer conversation.
 Automates the process for creating, organizing and tracking requests
Plant Maintenance Software
Plant Maintenance is a process that involves regular inspections, checks, and servicing of types of equipment and machinery to ensure the plant is in optimum working condition with no breakdown. It also involves repairing or replacing necessary parts, equipment, and machinery
Sparrow has a module for effective handling of both preventive and breakdown maintenance. Track scheduled plant maintenance activities and easily manage breakdown repairs each plant needs to take care of its equipment, and therefore preventive maintenance is required.
Our maintenance software provides detailed scheduling capabilities to proactively generate maintenance jobs at a certain period.
Automated Pricing Software
Automated pricing systems will allow you to set up maximum and minimum prices to ensure that you are not only gaining sales but also gaining the highest profit margins possible. Once set up, it will continuously study other similar products to automatically configure your prices to allow the best results for you.
Sparrow ERP finds the information on price, product, and promotion including shipping charges, stock levels and more. Sparrow ERP pricing optimization tools gather data automatically. No technical integration or setup required for Automated Pricing.
Automated pricing software enhances instant pricing comparison, visual market data at BOM (Bill of material)) & part level.
Purchasing Software
Purchasing has been one of the major parts of any manufacturing industry. The purchasing software is business software that allows organizations to automate their entire source-to-pay cycle. Users can gain complete access to control every procurement process operation.
Sparrow provides a simplified purchasing module that has all the essential tools to cover your purchasing requirements. It generates Immediate Quotations in few Seconds through automated Features and quotes are accurately created with the latest pricing and availability.
Feature-rich Sparrow ERP for Electronics Manufacturers eliminates bottlenecks and enhances flow with real-time insight right from requisition to return. We put extra emphasis on purchasing software because that is the most crucial part of manufacturing or trading operations.
This case study focuses only on important aspects of trading business process, Sparrow ERP system has appreciably more other functionalities which are apart from the scope of these documents to envelop. If you have any questions about your specific need or business scenarios then kindly send us a question on info@intellial.com.